Krishna Jewellers Pearls and Gems / About Us
Krishna Jewellers Pearls and Gems (House of Krishna) has a legacy of 40 years in the Jewellery Industry and is a "ONE STOP SHOP" for all Jewellery needs. The company has grown with the city of Hyderabad and comprises of 3 business lines Krishna Jewellers, Pearls & Gems (Gold, Diamond and Polki Jewellery), Krishna Pearls (Pearls and real stone Jewellery) and Krishna House of Silver (Silverware). With humble beginnings in 1983 with a single store, today the company has 5 stores across the length and breadth of the city. Krishna Jewellers, Pearls and Gems is a name synonymous with 'Customer Delight' and 'Trust' which are our core values.
We provide Exquisite and Unique jewellery designs in Diamonds, Gold, Polki ,Pearls, Silver and other precious n semi-precious gemstones. We have a wide range of Jewellery catering to all occasions and we specialize in Wedding Jewellery for both the Groom and the Brides.
Our clients are our NOTRH STAR and we go to any length to provide services to them. We provide Video Call Shopping facility to our clients which is especially helpful for our overseas clients who can select the products online. We have started exporting our products to our overseas clients and provide express shipping facilities at reasonable or no cost depending on the selection.
Our flagship store is located at a prominent and convenient location. We serve our clients with the approach of "Atithi Devo Bhava" and we take pride in the fact that each of our staff lives this value in every interaction with our clients. We have a very favourable return policy to ensure our clients feel secure in making their purchases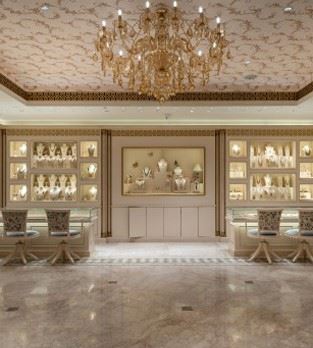 1. Our first store was set up in Pattergatti near the historis Charminar, Hyderabad in 1983
2. In 2005, Krishna Jewellers Pearls & Gems opened its flagship store at Punjagutta. With a large shopping area, this was at the city centre and in the midst of a major shopping destination in Hyderabad. We also diversified our product line to include Jewellery with precious stones including Diamond, emerald, ruby and sapphire.
3. We catered to several International customers with stores in Inorbit Mall and Hyderabad Airport in 2008
4. We launched our online store in 2014 www.krishnapearls.com
Customer Care Assistance
If you have any additional queries, we are just an email or phone call away! Drop in a message any time
onlinesales@krishnajewellers.com. or call us at +91 8499011111 from 10:30 am to 7:00 pm IST